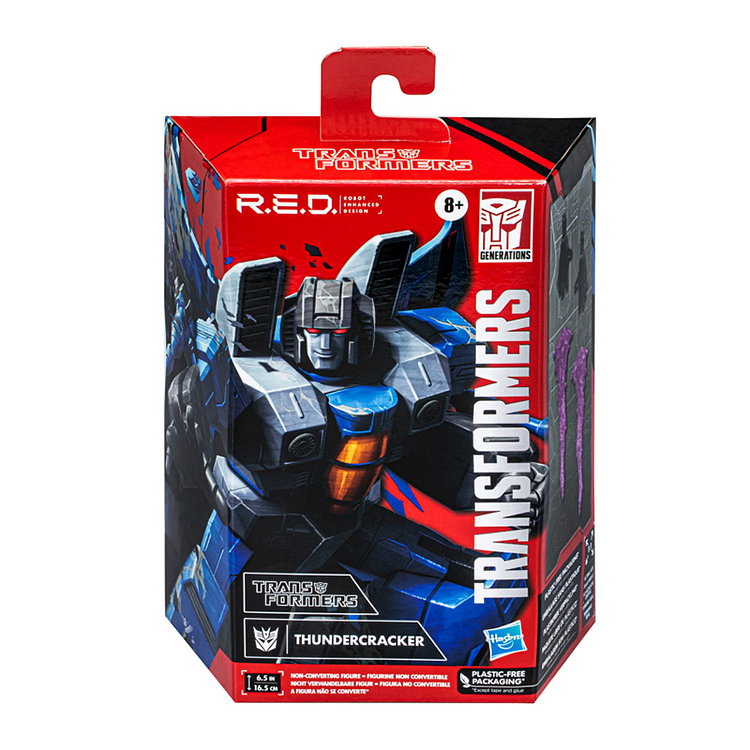 Enhance your Transformers collection with Transformers R.E.D. [Robot Enhanced Design] figures. These 6-inch scale figures are inspired by iconic Transformers characters from throughout the Transformers universe, including G1, Transformers: Prime, Beast Wars: Transformers, and beyond. R.E.D. figures do not convert, allowing us to enhance the robot mode with a sleek, "kibble-free" form.

Highly poseable with 55 deco ops, this Thundercracker R.E.D. figure was designed to bring collectors our most screen-accurate version of the character to display on their shelf. The merciless Decepticon warrior is inspired by the character's appearance in the animated series, The Transformers, and features 16 points of articulation. Includes 2 alt hands, 2 Null Rays, and 2 blast effect accessories.

Look for other R.E.D. figures to enhance your collection (each sold separately, subject to availability).
Includes: Figure and 6 accessories
TRANSFORMERS R.E.D. [ROBOT ENHANCED DESIGN]: R.E.D. 6-inch figures are inspired by iconic Transformers characters from throughout the Transformers universe, including G1, Transformers: Prime, Beast Wars: Transformers, and beyond
FIGURE DOES NOT CONVERT: Transformers R.E.D. figures do not convert, allowing us to enhance the robot mode with a sleek, "kibble-free" form
SCREEN-ACCURATE DESIGN: Highly poseable with 55 deco ops and 16 points of articulation, this Transformers R.E.D. figure was designed to bring collectors our most screen-accurate version of the character to display on their shelf
TRANSFORMERS G1-INSPIRED ACCESSORIES: Figure comes with 2 alt hands, 2 Null Rays, and 2 blast effect accessories