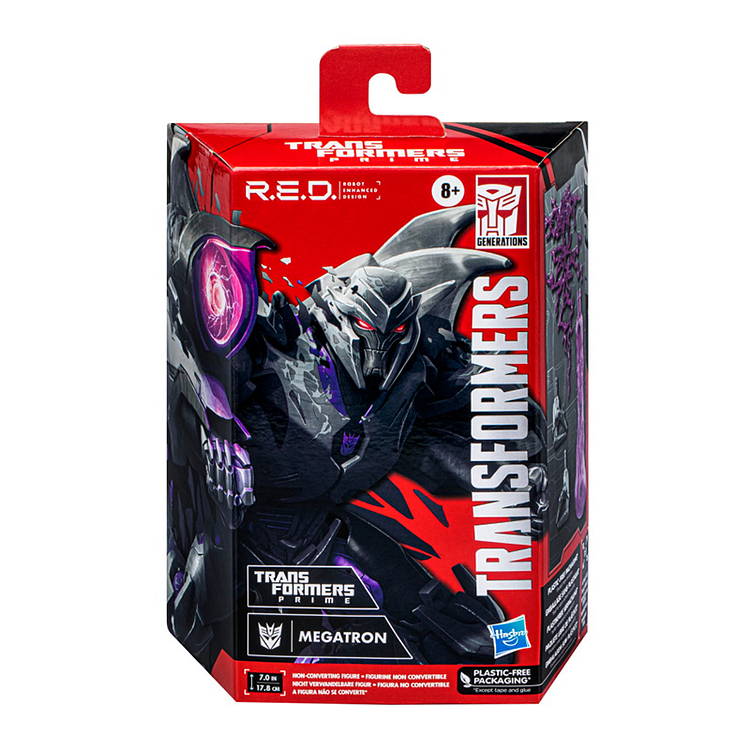 Enhance your Transformers collection with Transformers R.E.D. [Robot Enhanced Design] figures. These figures are inspired by iconic Transformers characters from throughout the Transformers universe, including G1, Transformers: Prime, Beast Wars: Transformers, and beyond. R.E.D. figures do not convert, allowing us to enhance the robot mode with a sleek, "kibble-free" form.

Highly poseable with 60 deco ops, this Megatron R.E.D. figure was designed to bring collectors our most screen-accurate version of the character to display on their shelf. The ruthless Decepticon leader is inspired by the character's appearance in the animated series, Transformers: Prime, and features 26 points of articulation. Includes 2 alt hands, Fusion Cannon, sword, and 2 blast effect accessories.

Look for other R.E.D. figures to enhance your collection (each sold separately, subject to availability).

Includes: Figure and 6 accessories
TRANSFORMERS R.E.D. [ROBOT ENHANCED DESIGN]: R.E.D. figures are inspired by iconic Transformers characters from throughout the Transformers universe, including G1, Transformers: Prime, Beast Wars: Transformers, and beyond
FIGURE DOES NOT CONVERT: Transformers R.E.D. figures do not convert, allowing us to enhance the robot mode with a sleek, "kibble-free" form
SCREEN-ACCURATE DESIGN: Highly poseable with 60 deco ops and 26 points of articulation, this Transformers R.E.D. figure was designed to bring collectors our most screen-accurate version of the character to display on their shelf
TRANSFORMERS: PRIME-INSPIRED ACCESSORIES: Figure comes with 2 alt hands, Fusion Cannon, sword, and 2 blast effect accessories